I like ice cream, me you know.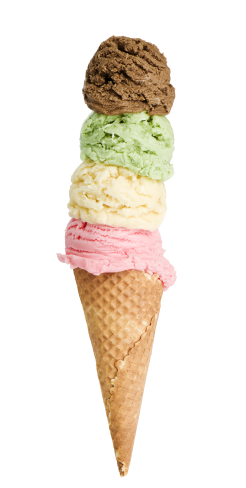 After handbags, shoes and earrings, a bit of sexy vanilla keeps this girl sweet.
I've tasted ice cream in at least 23 countires including Barbados, Belgium, Canada, Egypt, France, Germany, Greece, India, Israel, Poland, Spain and the United States- Miami and Florida keys
After I had won
BBC's Britain's Best Cook award
I wandered around the West End in a daze trying to take it all in. Well after midnight I chanced upon
Scoop Gelato
in Shorts Gardens. I was amazed it was still open. I told the proprietor that ice cream was my favourite. He invited me in and let me sample
almost every single flavour
bar amaretto and green tea. He was really cute. I was on top of the world. The BBC trophy was in my hotel room. I bought the biggest tub on offer and took it back to the hotel with me. I scoffed it while soaking in the bath.
A week before the
Royal Wedding
I visited St. Andrews and saw where the Great Romance started. And I chanced upon
Jannetta's
in South Street. Mmm .... yummy. There is clearly more to St Andrews than golf and
pier walks
.
So what about ice cream in Yorkshire? Two of my favourite gelateria are farms near Holmfirth.
There's
Dearn Lea
in
Shelley
. The cone in the picture to the top right is one of theirs.
And then there's
Yummy Yorkshire
near
High Flatts
. This is one of their tubs. I had a scoop with a
mince pie
.
Both Dearn Lea and Yummy Yorkshire are working farms. You can visit the cows if you want though I'd prefer to visit the tea shop . The cows are very clean as are their quarters but even clean cows are a bit whiffy. If you must mither the moos sample your flavours first as you may not stomach it the other way round.